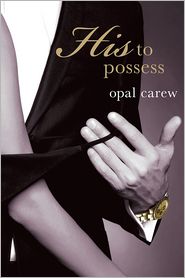 Title

His to Possess
Author

Opal Carew
Published

March 18, 2014
Source

Net Galley in exchange for an Honest Review
Blurb
Jessica's life was in ruins…until she met

him.
Standing in the rain feeling lost in a new city, with no job and no prospects, she's about to give up. Until Dane Rainier pulls up in his limo and offers her a ride—and sweeps her into the life of her dreams. Now she has a high-powered job and is having the best sex of her life, exploring her submissive side under the masterful hand of a gorgeous billionaire.
But there's a part of her that's still holding back. Because the truth is, she's never gotten over her ex-boyfriend Storm. A heavily muscled, motorcycle-riding rock musician, Storm couldn't be any more different from Dane… and she just can't get him out of her head.
Now Storm is about to reappear and turn her whole world upside down. Both Dane and Storm make her body burn to be possessed, but will her indecisive heart cost her the love of both men?
Review
Jessica Dane and Rafe, wow what great characters! I really loved this story. I stayed up until 1:30 am reading it cause I just couldn't put it down. This is the first story by this author that I have read and I can deff see myself finding more books from her.
There was only one thing about this book that I didn't 'love' and that was the description of Dane and Rafe. They were just very perfect in every way. Nice, big, and, well endowed. I know books are supposed to bring our fantasies alive but I do like the believability that can be shared with the average every day man.
What I loved about this book is the fast paceness of it. I loved that there wasn't any 'fluff.' I loved that when I would finish one page I was compelled to turn to the next and not put it down.
The authors descriptions were done very wonderfully and I loved that each of the characters had some flaw about them.
Overall this book I think gets a 4.5 star rating and I can't wait to read more by Opal Carew.